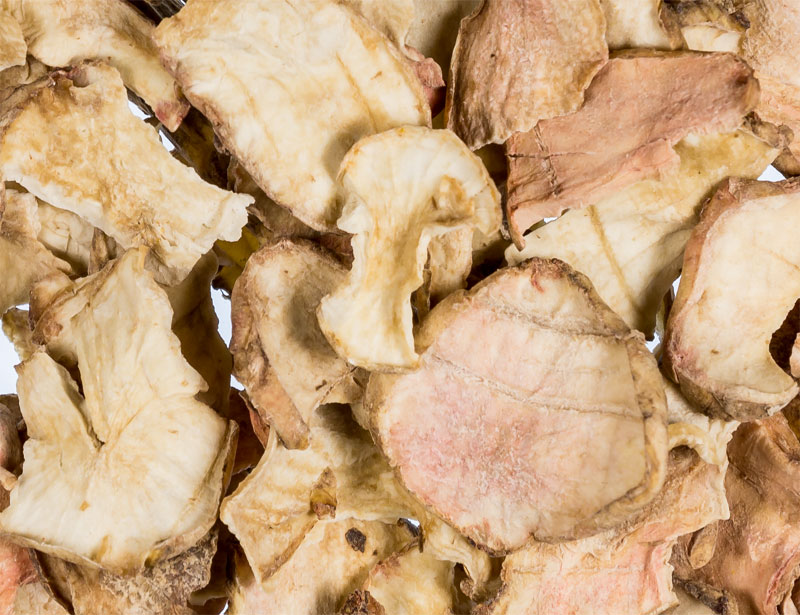 Sunchoke
Item number: 70085
100% natural pet food
High quality product
Suitable for horses, dogs, birds, reptiles and rodents
That distinguishes our Sunchoke
Sunchoke
The sunchoke tuber is essential in today's pet food. It is suitable for feeding dogs, rodents, birds, reptiles and horses. It can be used as a single feed or as a supplement to daily animal feed.
Sunchoke as a natural animal feed
The sunchoke tuber is ideal for upgrading natural pet food. It provides the animals with abundant minerals such as calcium, magnesium, phosphate, potassium and sodium. These are essential for the animal's body. It is therefore advisable to feed the tuber in order to provide the animals with minerals in a natural way.
Positive effect
In addition to the optimal ratio of minerals, the sunchoke tuber has a high content of natural inulin, which can have a positive effect on the intestinal flora and lead to the settlement of good intestinal bacteria (lactobacteria and bifidobacteria), while the undesirable intestinal inhabitants are reduced. The naturally contained insulin can be used as a starch substitute for animals with diabetes, as it does not affect the blood sugar level.
High product quality
As a wholesaler of pet food, the quality of the feed is our top priority. The main focus is on the health of the animals and the satisfaction of the customers. Because a high-quality feed that is gently air-dried is rich in natural nutrients. The nutrients it contains can in turn have a positive effect on the health of the animals.
Ingredients
100% sunchoke
Specification
Size : 20-30mm
Colour : brown/beige
Packaging : 10kg/bag
Processing
Grinding
Homogenization
Mixture
Packaging
Pelletize
Can be used for the following species
Bird , Dog , Horse , Reptile , Rodent
Get in touch with us
Would you like to find out more about our natural feed? Send us an inquiry or give us a call. We answer your concerns personally and look forward to your interest. We will reply within 1 working day.