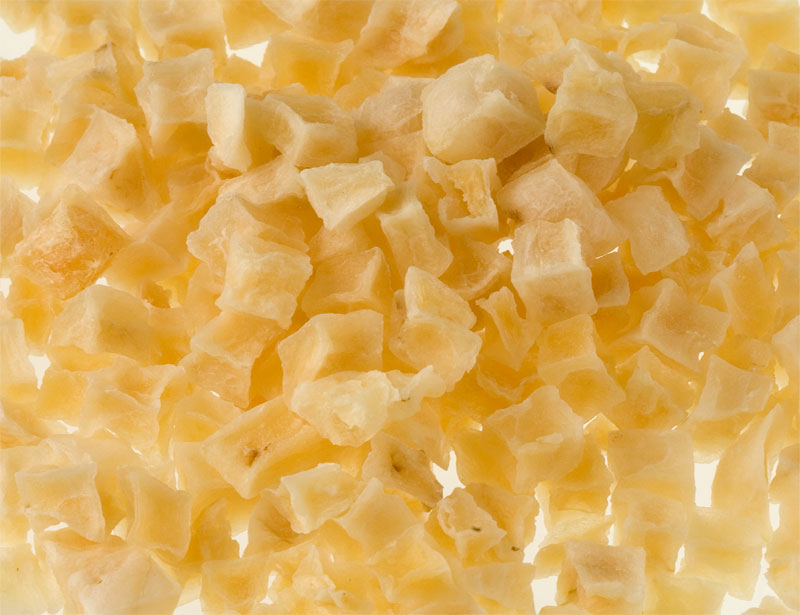 Potato Dice
Item number: 70011
100% natural pet food
Gentle drying process
Suitable for horses, dogs, birds, reptiles and rodents
That distinguishes our Potato Dice
Potato dice
Diced potatoes are a natural product that is gently air-dried. It often forms the basis of today's animal nutrition. Our potatoes are blanched before they are dried so that our pets can use them. Their considerable content of minerals, fiber and vitamins makes them a global player in the modern diet of our pets. Therefore, they are an ideal feed for dogs, rodents, birds, reptiles and horses.
Potato dice as a natural feed
Healthy, natural and species-appropriate pet food can have a huge impact on the health of animals. Pet feed that comes from nature can provide animals with natural nutrients that can positively change the animals' wellbeing. Our diced potatoes are a purely natural product that do not contain any artificial additives.
Positive effects
Diced potato can help regulate the metabolism. It can also strengthen the immune system and improve the animals' skin and fur.
High product quality
As a wholesaler of animal feed, the health of animals and the associated customer satisfaction are our top priority. Regular quality controls at our company and at the local suppliers guarantee excellent product quality.
Specification
Size :
Colour : yellowish
Packaging : 10kg/carton
Processing
Grinding
Homogenization
Mixture
Packaging
Pelletize
Can be used for the following species
Bird , Dog , Horse , Reptile , Rodent
Get in touch with us
Would you like to find out more about our diced potatoes or any other of our diverse products? If so, please do not hesitate to contact us. We will be happy to answer your questions and offer advice about which of our products is best for you. We will reply within 1 working day.